Deploying and publishing packages¶
Topic learning objectives¶
By the end of this topic, students should be able to:
Define continuous deployment and argue the costs and benefits of continuous deployment

Explain semantic versioning, and define what constitutes patch, minor, major and breaking changes

Use continuous deployment (e.g., GitHub Actions) to automate deployment of software packages, or components of software packages (e.g., documentation)

Publish software packages to development and production package repositories (e.g., GitHub and CRAN)
Continous Deployment (CD)¶
Defined as the practice of automating the deployment of software that has successfully run through your test-suite.
For example, upon merging a pull request to master, an automation process builds the Python package and publishes to PyPI without further human intervention.
Why use CD?¶
little to no effort in deploying new version of the software allows new features to be rolled out quickly and frequently

also allows for quick implementation and release of bug fixes

deployment can be done by many contributors, not just one or two people with a high level of Software Engineering expertise
Why use CD?¶
Perhaps this story is more convincing:
The company, let's call them ABC Corp, had 16 instances of the same software, each as a different white label hosted on separate Linux machines in their data center. What I ended up watching (for 3 hours) was how the client remotely connected to each machine individually and did a "capistrano deploy". For those unfamiliar, Capistrano is essentially a scripting tool which allows for remote execution of various tasks. The deployment process involved running multiple commands on each machine and then doing manual testing to make sure it worked.
The best part was that this developer and one other were the only two in the whole company who knew how to run the deployment, meaning they were forbidden from going on vacation at the same time. And if one of them was sick, the other had the responsibility all for themselves. This deployment process was done once every two weeks.
Source: Tylor Borgeson
Infrequent & manual deployment makes me feel like this when it comes time to do it: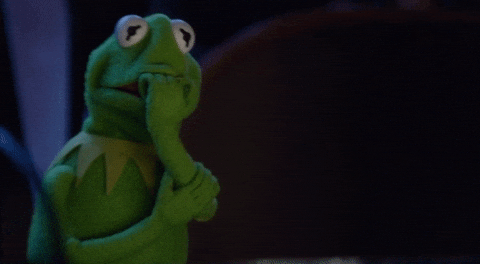 and so it can become a viscious cycle of delaying deployment because its hard, and then making it harder to do deployment because a lot of changes have been made since the last deployment…
So to avoid this, we are going to do continuous deployment when we can! And where we can't, we will automate as much as we can up until the point where we need to manually step in.
Examples of CD being used for data science¶
Semantic versioning¶
When we make changes and publish new versions of our packages, we should tag these with a version number so that we and others can view and use older versions of the package if needed.

These version numbers should also communicate something about how the underlying code has changed from one version to the next.

Semantic versioning is an agreed upon "code" by developers that gives meaning to version number changes, so developers and users can make meaningful predictions about how code changes between versions from looking solely at the version numbers.

Semantic versioning assumes version 1.0.0 defines the API, and the changes going forward use that as a starting reference.
Semantic versioning¶
Given a version number MAJOR.MINOR.PATCH (e.g., 2.3.1), increment the:
MAJOR version when you make incompatible API changes (often called breaking changes 💥)

MINOR version when you add functionality in a backwards compatible manner ✨↩️

PATCH version when you make backwards compatible bug fixes 🐞
Source: https://semver.org/
Semantic versioning case study¶
Case 1: In June 2009, Python bumped versions from 3.0.1, some changes in the new release included:
Addition of an ordered dictionary type

A pure Python reference implementation of the import statement

New syntax for nested with statements
Case 2: In Dec 2017, Python bumped versions from 3.6.3, some changes in the new release included:
Fixed several issues in printing tracebacks (PyTraceBack_Print()).

Fix the interactive interpreter looping endlessly when no memory.

Fixed an assertion failure in Python parser in case of a bad unicodedata.normalize()
Case 3: In Feb 2008, Python bumped versions from 2.7.17, some changes in the new release included:
print became a function

integer division resulted in creation of a float, instead of an integer

Some well-known APIs no longer returned lists (e.g., dict.keys, dict.values, map)
Exercise: name that semantic version release¶
Reading the three cases posted above, think about whether each should be a major, minor or patch version bump. Answer the chat when prompted.
What about CD with R packages¶
This is not a common practice (yet!). One reason for this could be that CRAN has a policy where they only want to see updates every 1-2 months.

Semantic versioning is used in Tidyverse R packages, but creating versions is done manually
Publishing your R package¶
Level 1: publishing on GitHub¶
For this course, we will only publish your package on GitHub, not CRAN. For this to work, you need to push your package code to GitHub and provide users these instructions to download, build and install your package:
# install.packages("devtools")




devtools

::

install_github

(

"ttimbers/convertempr"

)



This is where almost all R packages start out publishing, and continue publishing development versions between releases.
Level 2: publishing on CRAN¶
CRAN (founded in 1997) stands for the "Comprehensive R Archive Network"

it is a collection of sites which host identical copies of:

R distribution(s)

the contributed extensions (i.e., packages)

documentation for R

binaries (i.e., packages)

as of 2012, there were 85 official 'daily' mirrors
Source: Hornik, K (2012). The Comprehensive R Archive Network. Wiley interdisciplinary reviews. Computational statistics. 4(4): 394-398. doi:10.1002/wics.1212
Publishing your Python package¶
Peer review facilitates package publishing¶
aims and goals:¶
rOpenSci fosters a culture that values open and reproducible research using shared data and reusable software.
We do this by:
Creating technical infrastructure in the form of carefully vetted, staff- and community-contributed R software tools that lower barriers to working with scientific data sources on the web

Creating social infrastructure through a welcoming and diverse community

Making the right data, tools and best practices more discoverable

Building capacity of software users and developers and fostering a sense of pride in their work

Promoting advocacy for a culture of data sharing and reusable software.
Source: https://ropensci.org/about/
rOpenSci's open peer review process¶
Authors submit complete R packages to rOpenSci.

Editors check that packages fit into rOpenSci's scope, run a series of automated tests to ensure a baseline of code quality and completeness, and then assign two independent reviewers.

Reviewers comment on usability, quality, and style of software code as well as documentation.

Authors make changes in response.

Once reviewers are satisfied with the updates, the package receives a badge of approval and joins rOpenSci's suite of approved pacakges.

Happens openly, and publicly on GitHub in issues.

Process is quite iterative and fast. After reviewers post a first round of extensive reviews, authors and reviewers chat in an informal back-and-forth, only lightly moderated by an editor.
Source: https://numfocus.org/blog/how-ropensci-uses-code-review-to-promote-reproducible-science
rOpenSci's Guidance and Standards¶
What aspects of a package are reviewed?
high-level best practices:

is the code reusable (e.g. follow the DRY principle)?

are sufficient edge cases tested?

etc

low-level standards:

are naming conventions for functions followed?

did they make the best choices of dependencies for the package's intended tasks?

etc
Source: https://numfocus.org/blog/how-ropensci-uses-code-review-to-promote-reproducible-science
rOpenSci's Review Guidebook¶
rOpenSci-reviewed packages:¶
What do you get for having your package reviewed by rOpenSci?¶
valuable feedback from the knowledgeable editors and reviewers

help with package maintenance and submission of your package to CRAN

promotion of your package on their website, blog and social media

packages that have a short accompanying paper can be automatically submitted to JOSS and fast-tracked for publication.
A new organization, modelled after rOpenSci

scope is Python packages

First package submitted to pyOpenSci was in May 2019
Semantic versioning case study - answers¶
In 2008, Python bumped versions from 2.7.17 to 3.0.0. Some changes in the 3.0.0 release included:
print became a function

integer division resulted in creation of a float, instead of an integer

Some well-known APIs no longer returned lists (e.g., dict.keys, dict.values, map)

and many more (see here if interested)
In 2009, Python bumped versions from 3.0.1 to 3.1.0. Some changes in the 3.1.0 release included:
Addition of an ordered dictionary type

A pure Python reference implementation of the import statement

New syntax for nested with statements
In 2017, Python bumped versions from 3.6.3 to 3.6.4. Some changes in the 3.6.4 release included:
Fixed several issues in printing tracebacks (PyTraceBack_Print()).

Fix the interactive interpreter looping endlessly when no memory.

Fixed an assertion failure in Python parser in case of a bad unicodedata.normalize()